brown girl dreaming by Jacqueline Woodson
A writer's memory is a funny thing when pen meets paper and one takes a journey back through life, concentrating on that critical first decade of life when discovery is all that there is.
brown girl dreaming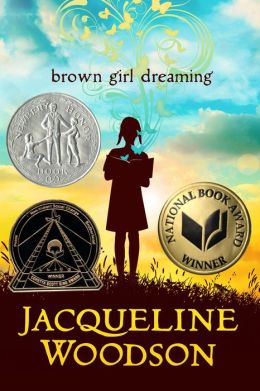 is one little book that I almost bypassed because it was in the Children's section of my local library. I had seen it at Left Bank Books and since I know the author's work, smiled at the cover, but again, passed it up. It is a Newbery Honor Book, winner of the National Book Award, and she is the 2015 PEN/Faulkner Writer in the Schools. She is inviting, accessible, and funny.
I'm glad I checked it out from the library and spent the last week taking a precious walk down childhood memories of a writer who was existing in the exact same time of change as I was. She wrote this in her 50th year, much like I did my poetry collection,
Fifty to 50
, just before my jubilee. Perhaps it was the "born in the mid 60s" that made this story feel so familiar.
Jacqueline Woodson
wrote about those precious early years before and during memory, after discover, and during those tentative moments of life. She wove her life story in little vignettes that felt more poetic than autobiographical. She used poetry, prose, and haikus that revealed so much about the time between 1953 and 1968.
In sharing her childhood dreams, history unfolding and life evolving from a little girl on integration school steps to a king walking a bridge of freedom to a woman with a halo fro declaring her black beauty, this work is as timely as yesterday as today is tomorrow. It was as much Little Rock as Selma as Montgomery as Ferguson as now.
This book will resonate with all my fellow Jones Generation, BoomerIIs who were born during that time of change. Those who sat beside white kids in class and remember the starched ribbons for Sunday service and playing jacks outside. It will also resonate with this new generation that truly things like friendships, parents, grandparents, lazy summers, and hopes are all things that connect us all.
Jacqueline shared the story of her as a little girl weaving her way through twisted words to straightened sentences as she commands everyone to accept her as who she will be, not a lawyer or something to fall back on, but on the bravery it takes to authentically proclaim, I am a writer, and then set about making that happen
Her youth books are familiar in her themes of young people coming of age in the midst of societal change. She brings an accessibility to her work that invites all of us to consider "how to listen #1" and find that honesty we were when we were young.
Written in five parts with a chronological journey through her first ten years, this is a book that I will go back to purchase, keep on my shelf, and invite my young daughter to keep dreaming.